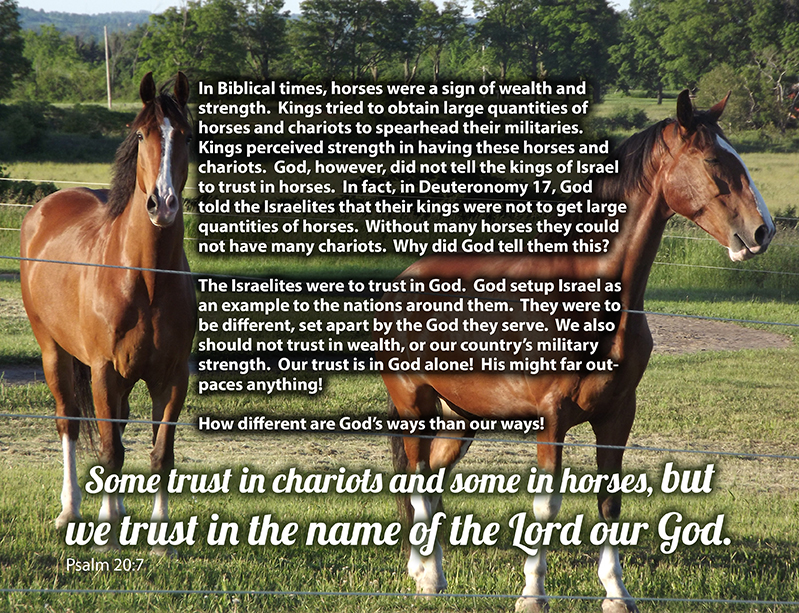 Description
Psalm 20:7
Some trust in chariots and some in horses, but we trust in the name of the Lord our God.
In Biblical times, horses were a sign of wealth and strength. Kings tried to obtain large quantities of horses and chariots to spearhead their militaries. Kings perceived strength in having these horses and chariots. God, however, did not tell the kings of Israel to trust in horses. In fact, in Deuteronomy 17, God told the Israelites that their kings were not to get large quantities of horses. Without many horses they could not have many chariots. Why did God tell them this?
The Israelites were to trust in God. God setup Israel as an example to the nations around them. They were to be different, set apart by the God they serve. We also should not trust in wealth, or our country's military strength. Our trust is in God alone! His might far outpaces anything!
How different are God's ways than our ways!

Downloads
Printable version (PDF Format)
Wallpaper size 1024×768
Wallpaper size 1280×1024
Wallpaper size 1280×800
Wallpaper size 1366×768
Wallpaper size 1440×900
Wallpaper size 1600×900
Wallpaper size 1680×1050
Wallpaper size 1920×1080
Wallpaper size 1920×1200
Also available as a Kindle or print book
This visual aid is also available as part of the Refrigerator Devotionals Volume 2 book (available in print and Kindle form) from Amazon.com
Click here to buy the book on Amazon.