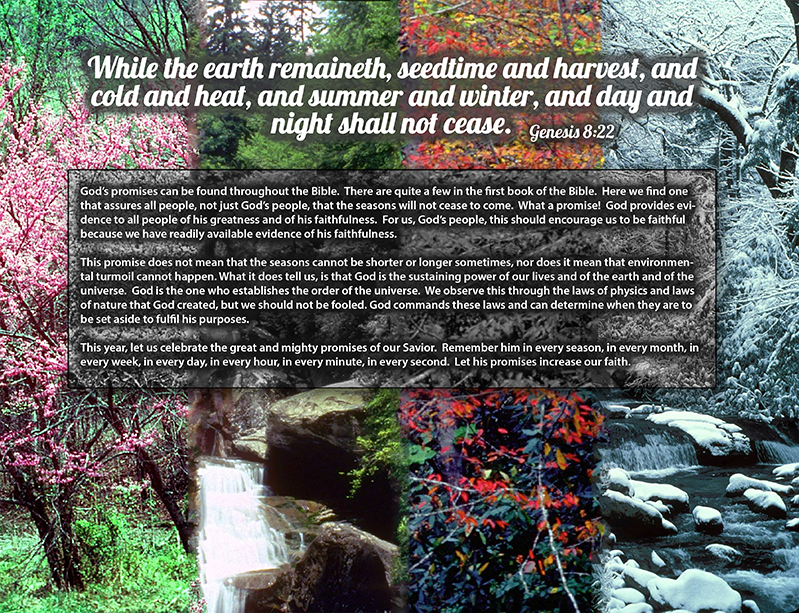 Description
Genesis 8:22
While the earth remaineth, seedtime and harvest, and cold and heat, and summer and winter, and day and night shall not cease.
God's promises can be found throughout the Bible. There are quite a few in the first book of the Bible. Here we find one that assures all people, not just God's people, that the seasons will not cease to come. What a promise! God provides evidence to all people of his greatness and of his faithfulness. For us, God's people, this should encourage us to be faithful because we have readily available evidence of his faithfulness.
This promise does not mean that the seasons cannot be shorter or longer sometimes, nor does it mean that environmental turmoil cannot happen. What it does tell us, is that God is the sustaining power of our lives and of the earth and of the universe. God is the one who establishes the order of the universe. We observe this through the laws of physics and laws of nature that God created, but we should not be fooled. God commands these laws and can determine when they are to be set aside to fulfil his purposes.
This year, let us celebrate the great and mighty promises of our Savior. Remember him in every season, in every month, in every week, in every day, in every hour, in every minute, in every second. Let his promises increase our faith.

Downloads
Printable version (PDF Format)
Wallpaper size 1024×768
Wallpaper size 1280×1024
Wallpaper size 1280×800
Wallpaper size 1366×768
Wallpaper size 1440×900
Wallpaper size 1600×900
Wallpaper size 1680×1050
Wallpaper size 1920×1080
Wallpaper size 1920×1200