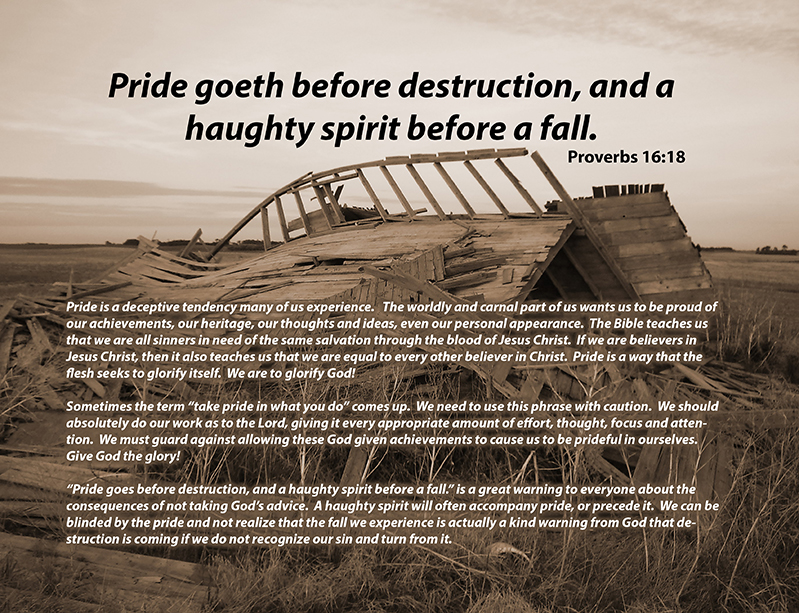 Description
Proverbs 16:18
Pride goeth before destruction, and a haughty spirit before a fall.
Pride is a deceptive tendency many of us experience. The worldly and carnal part of us wants us to be proud of our achievements, our heritage, our thoughts and ideas, even our personal appearance. The Bible teaches us that we are all sinners in need of the same salvation through the blood of Jesus Christ. If we are believers in Jesus Christ, then it also teaches us that we are equal to every other believer in Christ. Pride is a way that the flesh seeks to glorify itself. We are to glorify God!
Sometimes the term "take pride in what you do" comes up. We need to use this phrase with caution. We should absolutely do our work as to the Lord, giving it every appropriate amount of effort, thought, focus and attention. We must guard against allowing these God given achievements to cause us to be prideful in ourselves. Give God the glory!
"Pride goes before destruction, and a haughty spirit before a fall." is a great warning to everyone about the consequences of not taking God's advice. A haughty spirit will often accompany pride, or precede it. We can be blinded by the pride and not realize that the fall we experience is actually a kind warning from God that destruction is coming if we do not recognize our sin and turn from it.
Downloads
Printable version (PDF Format)
Wallpaper size 1024×768
Wallpaper size 1280×1024
Wallpaper size 1280×800
Wallpaper size 1366×768
Wallpaper size 1440×900
Wallpaper size 1600×900
Wallpaper size 1680×1050
Wallpaper size 1920×1080
Wallpaper size 1920×1200
Also available as a Kindle or print book
This visual aid is also available as part of the Refrigerator Devotionals Volume 2 book (available in print and Kindle form) from Amazon.com
Click here to buy the book on Amazon.