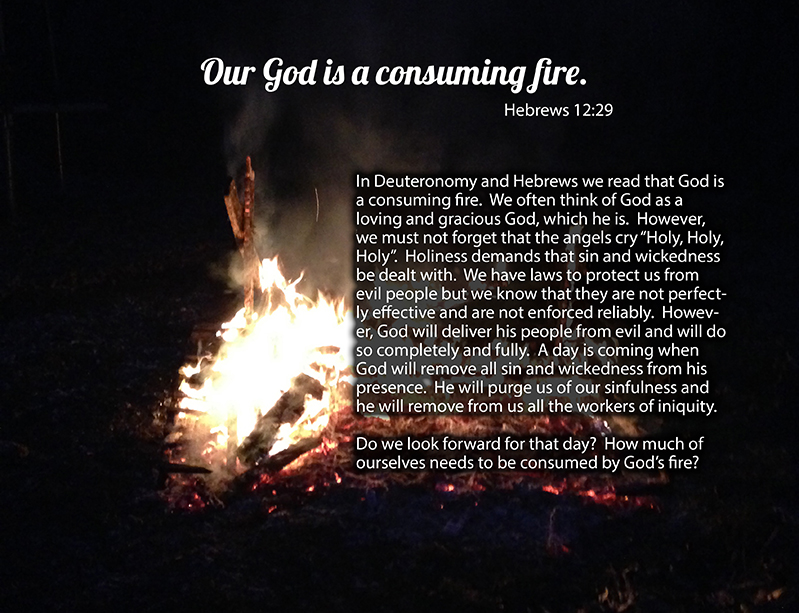 Description
Hebrews 12:29 Our God is a consuming fire.
In Deuteronomy and Hebrews we read that God is a consuming fire. We often think of God as a loving and gracious God, which he is. However, we must not forget that the angels cry "Holy, Holy, Holy". Holiness demands that sin and wickedness be dealt with. We have laws to protect us from evil people but we know that they are not perfectly effective and are not enforced reliably. However, God will deliver his people from evil and will do so completely and fully. A day is coming when God will remove all sin and wickedness from his presence. He will purge us of our sinfulness and he will remove from us all the workers of iniquity.
Do we look forward for that day? How much of ourselves needs to be consumed by God's fire?

Downloads
Printable version (PDF Format)
Wallpaper size 1024×768
Wallpaper size 1280×1024
Wallpaper size 1280×800
Wallpaper size 1366×768
Wallpaper size 1440×900
Wallpaper size 1600×900
Wallpaper size 1680×1050
Wallpaper size 1920×1080
Wallpaper size 1920×1200