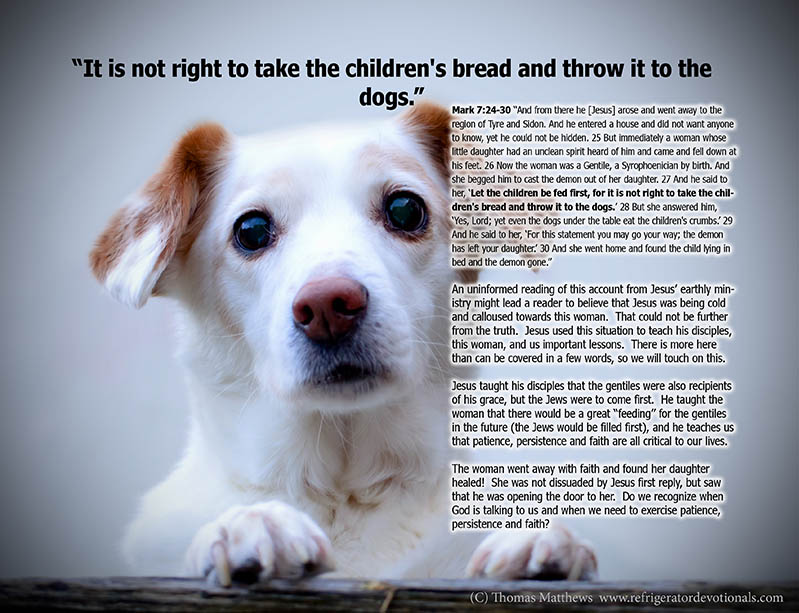 Description
Mark 7:24-30 "And from there he [Jesus] arose and went away to the region of Tyre and Sidon. And he entered a house and did not want anyone to know, yet he could not be hidden. 25 But immediately a woman whose little daughter had an unclean spirit heard of him and came and fell down at his feet. 26 Now the woman was a Gentile, a Syrophoenician by birth. And she begged him to cast the demon out of her daughter. 27 And he said to her, 'Let the children be fed first, for it is not right to take the children's bread and throw it to the dogs.' 28 But she answered him, 'Yes, Lord; yet even the dogs under the table eat the children's crumbs.' 29 And he said to her, 'For this statement you may go your way; the demon has left your daughter.' 30 And she went home and found the child lying in bed and the demon gone."
An uninformed reading of this account from Jesus' earthly ministry might lead a reader to believe that Jesus was being cold and calloused towards this woman. That could not be further from the truth. Jesus used this situation to teach his disciples, this woman, and us important lessons. There is more here than can be covered in a few words, so we will touch on this.
Jesus taught his disciples that the gentiles were also recipients of his grace, but the Jews were to come first. He taught the woman that there would be a great "feeding" for the gentiles in the future (the Jews would be filled first), and he teaches us that patience, persistence and faith are all critical to our lives.
The woman went away with faith and found her daughter healed! She was not dissuaded by Jesus' first reply, but saw that he was opening the door to her. Do we recognize when God is talking to us and when we need to exercise patience, persistence and faith?
Downloads
Printable version (PDF Format)
Wallpaper size 1024×768
Wallpaper size 1280×1024
Wallpaper size 1280×800
Wallpaper size 1366×768
Wallpaper size 1440×900
Wallpaper size 1600×900
Wallpaper size 1680×1050
Wallpaper size 1920×1080
Wallpaper size 1920×1200